As you start to plan your first trip to Iceland, you might be wondering what conditions will be like when you step out of the plane. Will it be snowy? Can I drive? What should I wear? Iceland is epic any time of year, but in this article we'll give you the basics on what to expect as you plan to visit Iceland in April.
Iceland weather in April
You've probably taken a look at a myriad of packing lists for Iceland, and seen many mentions of waterproof clothing. It's true that island weather can be very unpredictable, and adding mountains into the mix makes forecasting even more difficult. Combine the presence of glaciers, geothermal activity, and differing elevations, and understanding local weather patterns might be best left to the folks that live under or near a prominent landform.
That said, weather in Iceland in April is a bit like the weather in Seattle in April. Expect colder conditions (usually not even close to freezing though) with intermittent rain, snow, or sleet depending on the aforementioned variables. However, if you plan to bring your regular rain gear, it likely won't cut it. We strongly recommend a Gore-TEX rain jacket like the Marmot Minimalist as wet conditions can be sustained for hours on end keeping you comfy and dry. This type of jacket won't soak through like other "weatherproof" jackets might. In other words, rainproof in Iceland means a much different thing than rainproof in Austin, TX.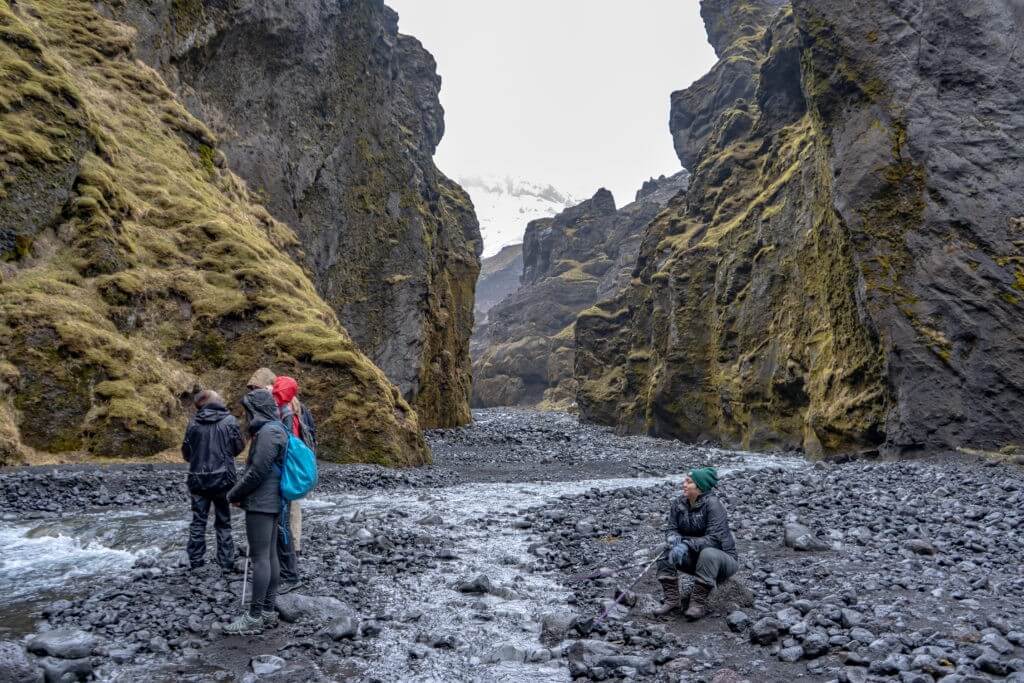 Should I rent a car in Iceland in April?
Exploring Iceland by car is awesome! Renting a car is the best way to see a lot of awesome places in Iceland. Important: When the car rental agency asks for you to opt into insurance, don't hesitate. Just as rain can be unpredictable, so can wind. At speeds exceeding 20-30 MPH, the wind in Iceland can pick up particles of volcanic sand and blast it against the car. This type of damage is not a standard coverage for car rentals in Iceland.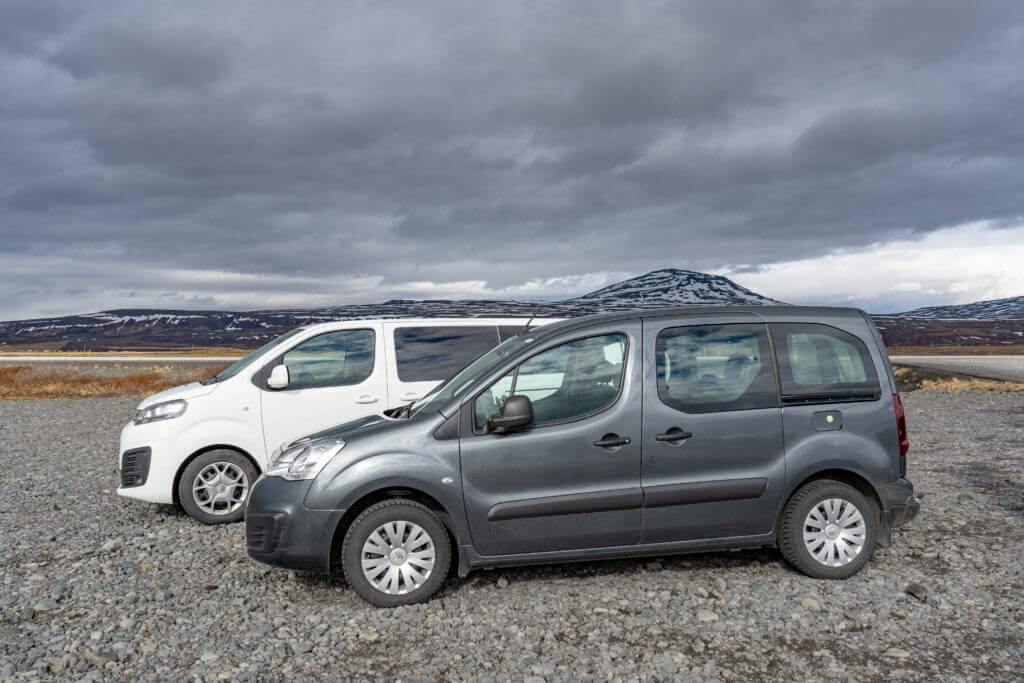 As you make your way around to the hotspots (or lesser-known areas) of Iceland on paved roads, remember to keep your eyes out for changing weather conditions. The unexposed side of a mountain road can turn icy as you make your way to a higher elevation, and, as you drive to the north parts of Iceland, you're likely to find trickier snowy driving conditions this time of year.
Oh, and remember to fuel up (most rental companies provide a fuel discount fob, but we prefer filling at Costco), bring snacks, and have enough layers to stay warm in case of a car issue. And whatever you do, don't stop in the middle of the road!
What about swimming in April?
If you're hoping to enjoy the Blue Lagoon, Secret Lagoon, or one of the many other awesome swimming holes in Iceland, April is the perfect time. These lagoons will warm you up on a cold day, and are usually open even during periods of rain or wind (and crowds are thinner during this time, so more space for you in the lagoon). Icelanders are tough!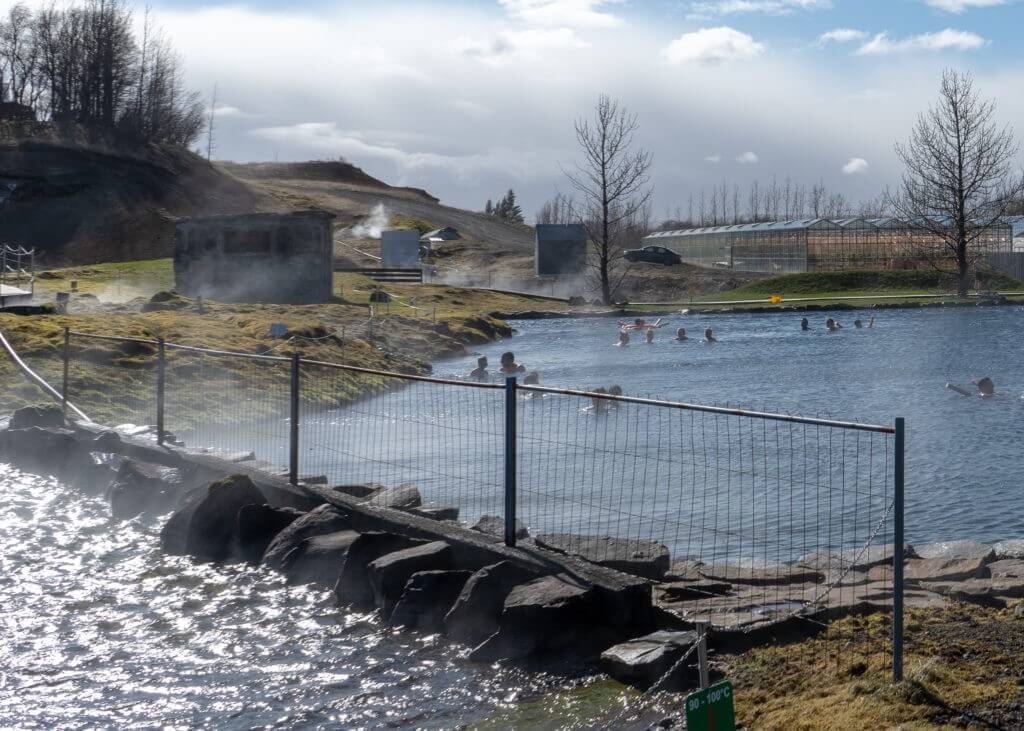 Shopping in Reykjavik
April in Iceland is often referred to as the "shoulder season" (in-between low and high seasons). Because many shops in downtown Reykjavik depend on tourist dollars, some will be closed during this time period. While you might not be able to visit every single boutique, the majority of small artisan shops, wool goods stores, museums, restaurants, coffee shops, and outdoor brands and outfitters are open during this time. Trust us, you'll definitely find enough awesome Icelandic keepsakes to bring home from your journey.
Finally, a note on prices
Iceland is an expensive place to visit. It doesn't matter what season it is, food and drinks in Iceland will always likely cost more than you would expect to pay at home. Touring is a different story. Because tourism companies depend mostly on visitors, April is a great month to book accommodations, tours, or all-inclusive excursions since these types of services are often priced differently in shoulder seasons.
Iceland in April is beautiful, awe-inspiring, and a culturally interesting place to visit. If you have questions that we didn't answer in this article, feel free to contact us and we'll get you the answers you're looking for!