Ah Thanksgiving. Friends, famIly, food, drinks, and more food. Nobody loves thinking about hitting the gym after having a healthy helping of Thanksgiving dinner let alone a couple beers. Who says your workout has to be traditional and boring though? Most gyms have reduced hours during Thanksgiving anyway, so think outside the gym this holiday weekend. Here are 4 non-traditional Thanksgiving workouts you can enjoy while spending time with your family and friends.
Turkey squats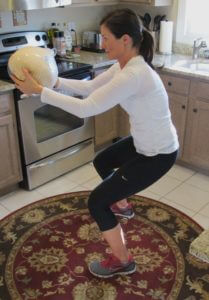 Choose your turkey weight this year based on how many pounds you want to squat, not how many you think you'll put on during the weekend. Yep, turkey squats are a thing. Maybe your relatives will think you're a little ridiculous, but they can always get in on this Thanksgiving workout trend too. Before Thanksgiving starts, try out dumbbell or kettlebell squats at your local gym, then let 'em rip before preparing the turkey (gloves recommended). Afterwards you can tell everyone that you participated in one of the most epic Thanksgiving workouts.
Lawn games
Everyone loves lawn games, and Thanksgiving is the perfect time to pull 'em out. If you live in a cooler climate, lawn games are the perfect way to warm up, and offer a variety of fun Thanksgiving workout options. Whether you're playing cornhole, frisbie, or just tossin' around a football or baseball, this is something even the kids can get into. Bonus: Nobody will even know you're tricking them into working out. Think of it as interval training with a beer in hand, and plenty of fun and bonding with your family and friends.
Turkey trot
In a lot of cities Turkey Trots are fun runs dedicated to creating caloric deficit before the Thanksgiving meal (or working it off afterwards). While a lot of people think you have to actually run during runs/races, the truth is that you'll be in great company with people of all ability, skill, and endurance levels (we 'walked' a Turkey Trot fun run a couple years ago). Put on your favorite turkey hat, head to the Turkey Trot, and experience one of those Thanksgiving workouts that's sure to be social and fun.
Walk it out
This one is easy, and doesn't require a lot of planning. A lot of people stay glued to the TV during the holiday season. You can get the blood flowing for just 30 minutes by taking a walk with the aunt you haven't seen in a while, or your nephew that always has the energy of a hummingbird. Walk it out before or after dinner, and enjoy the piece of mind of knowing that you did something good for yourself on Thanksgiving.
Just remember to have fun, indulge in friends, family, and food — and add a few of these fun and refreshing Thanksgiving workout ideas to the mix to stay away from the tryptophan trance.
Does your family have a favorite activity during the holidays? Let us know in the comments!