About McKinney Falls State Park
This beautiful state park is located just south of Austin city center, and west of the Austin Bergstrom International Airport. Getting to McKinney Falls State Park is super easy, even during rush hour because it's nicely situated just outside of the city. The park plays host to many activities including geocaching, hiking, mountain biking, and camping. There are also cabins and group facilities for rent.
There are two main hiking areas within the park, both with excellent water features. Here are some details on the Upper and Lower Falls at McKinney Falls State Park.
Lower Falls at McKinney Falls State Park
Access to the Lower Falls at McKinney Falls State Park is easy if you're entering directly from the parking lot. You'll be greeted with a safety warning sign, and a short path to what looks like a martian landscape. Continue walking straight, and you'll meet the lower falls. To access the Homestead Hiking Trail, you'll need to pass over the falls. While lately the water flow has been extremely active due to increased rain (making it difficult to get to Homestead), many times it's easy to cross the top of the falls without the need for intense wet gear, but you might consider some amphibious shoes or sandals.
The Upper Falls at McKinney Falls State Park
The Upper Falls at McKinney Falls State Park was extremely active the last time I was there. The first time I came to the park, I was just looking for a quick hike and was surprised and delighted to see that there's a vibrant campground and trail system. Unfortunately I came at dusk, so I only explored for an hour.
Update: I returned a while later to tackle the entire trail. The Upper Falls trail loops past a horse trainers cabin, with a steep two minute climb halfway through the hike. The path is almost entirely paved.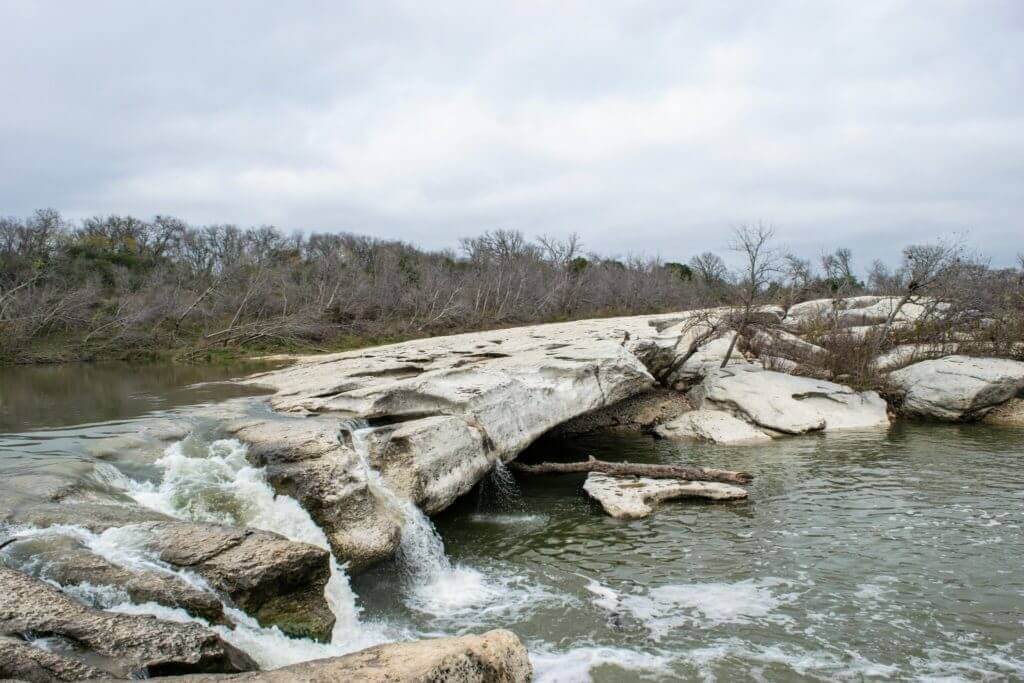 About the horse trainer's cabin
"This two-room structure, built in the early 1850s, served as quarters for Thomas McKinney's horse trainer, John Van Hagen of South Carolina. Van Hagen's house was at the center of McKinney's horse raising operations. Nearby were breeding and exercise pastures enclosed with stone fences, and a training track was located on the west side of Onion Creek. Van Hagen was in charge of the McKinney thoroughbreds until he moved to New York in 1873."
Have you been to McKinney Falls State Park? Have some tips for others? Please leave them in the comments section!