There are plenty of places to explore during your first Austin visit. However, if you've recently moved or are looking for an off-the-beaten-path sorta spot to check out, the Austin peacocks might be worth seeing. And, while it might seem uniquely Austin-weird to have a park of peacocks, consider the fact that peafowl randomly roam in many places in the US. Heck, Los Angeles has a peacock 'problem' too, and nobody talks about keeping LA weird!
So where are these elusive Austin peacocks?
If you've been to Mount Bonnell, you've already been pretty close to the park that's home to these beautiful birds. Mayfield Park (originally The Mayfield–Gutsch Estate purchased by Allison Mayfield, but later left to the City of Austin) is a 23 acre city park with a cottage (the cottage is for rent through the City of Austin for special functions). Other amenities at the park include a relaxing garden (near the cottage), hiking trails, picnic tables, and of course peacocks. Every bit of this awesome park is made possible through the work of volunteers.
How did the peacocks get to Mayfield Park?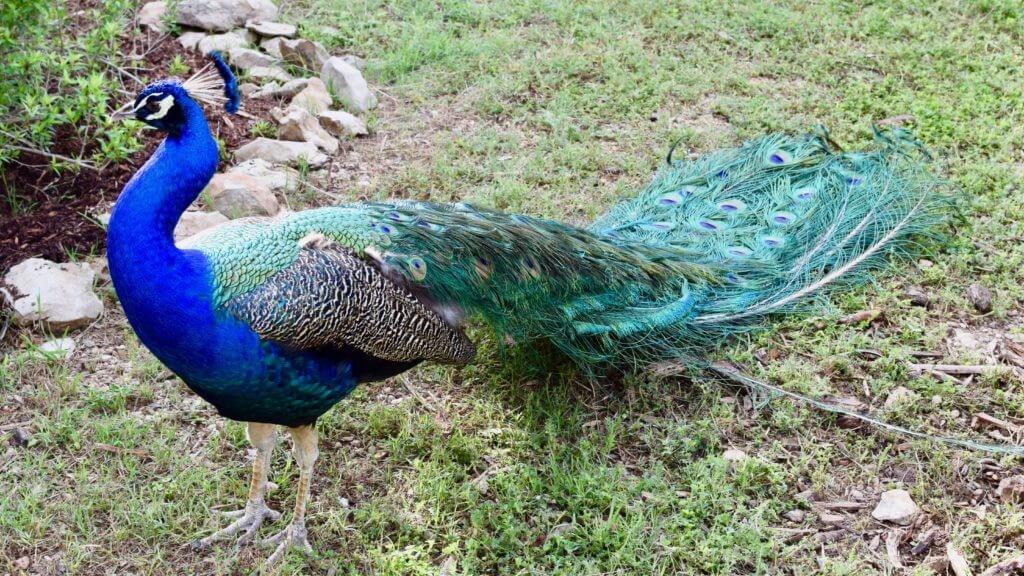 According to the Mayfield Park website, "Peafowl have been at the park since 1935 when friends gave Dr. and Mrs. Gutsch a pair for Christmas. They added more over the years in addition to the descendents of the original pair. Most of the peacocks at Mayfield Park are descendants of the original stock."
Hiking at Mayfield Park
Once you've taken some time to check out the cottage and surrounding garden, head out on one of the heavily shaded trails within Mayfield Park. The trails aren't long enough for a day-long excursion, but we definitely enjoyed the 1-2 mile loops in the thick of the forest. Interestingly, it didn't appear that the peacocks spend much time in the woods as they're mostly concentrated at the entrance (be careful when parking) and around the picnic tables.
After you've enjoyed a leisurely stroll in the forest, find your way back to one of the tables for a picnic with the peafowl. Oh, and try not to feed the wildlife. Volunteers look after the safety and diets of the birds, and their diets are probably a little more refined than what's in your picnic basket.
To get to Mayfield Park, head to 3505 W 35th St, Austin, TX 78703 with a picnic and your favorite sneakers. Oh, and let us know what you thought of the park!